Ultraleap's hand tracking technology tracks the movement of your hands and fingers with unparalleled accuracy and robustness.
Our SDK features a C-style API called LeapC for accessing tracking data from the Leap Motion service. Our integrations for the Unity and Unreal engines are built on this API. You can use LeapC directly in a C program, but the library is primarily intended for creating bindings to higher-level languages.
Older bindings for C++, C#, Java, JavaScript, Python, and Objective-C remain available, but are no longer actively supported.
Below you can find a general overview of the differences between our V2, V3, V4 and V5 software versions, together with links to design guidelines and other useful documentation.
To start creating, pick your platform of choice.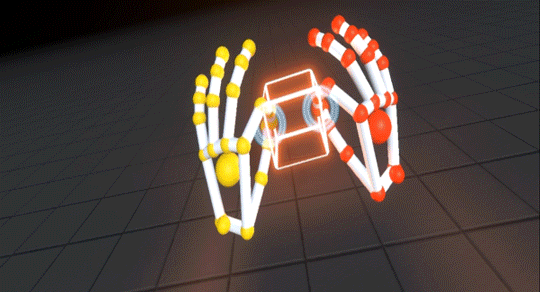 Software Versions
The Leap Motion tracking software has changed substantially over the years. If you're returning to work on an old project, or want to use a legacy API, you may need to use an older version.
V2 Software
The V2 software may be used to build with our standard tracking on OSX or Linux, or with tool tracking or touchscreen-style gestures. However, many of the development assets associated with V2 are outdated, and the software is no longer supported. We strongly recommend using the more recent software versions.
V3 Software
The V3 software, the first major Orion tracking release, is optimized for VR. However, it also preserved many of the legacy APIs out of the box, i.e. C++, C#, Objective-C, Java, Python, and JavaScript. Applications that rely on these APIs require the V3 software, though there is a fix for developers outlined below.
V4 Software
The V4 software, or the second generation of Orion, is further optimized for performance on VR platforms. With V4 we deprecated the older APIs in favor of the LeapC API, which is significantly closer to the metal. The newest demos such as Cat Explorer require V4. As part of the V4 release we also shared our wrapper for the legacy language bindings, which makes it easy to integrate legacy-reliant applications with LeapC. You can find the binding tool here: github.com/leapmotion/LeapCxx.
V5 Software
The V5 software, or Gemini, is currently only available on the Qualcomm® Snapdragon® XR2 5G platform for untethered XR. Future releases will extend our software beyond the XR2 chip and a general release is in the works.
Design Guides
Our design guides and other documentation cover best practice for designing hand tracking for different use-cases.
Be the first to know
Get the latest curated news on haptics, tracking, and next-generation interfaces – straight to your inbox.